Get ready for the ski season with the Nordic Trainer
---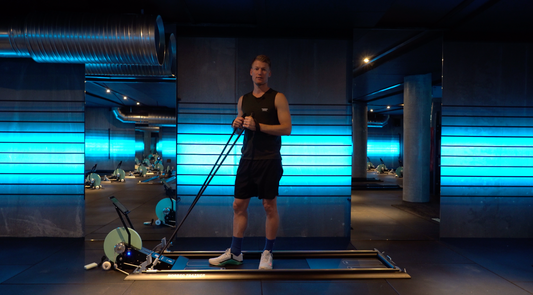 The ski season is right around the corner, so it's time to start getting in shape! The Nordic Trainer is a great way to get your cardio up and your legs ready for the slopes. The Nordic Trainer provides a low-impact workout that simulates cross-country skiing, making it perfect for those who want to stay fit while enjoying the snow. Plus, using the Nordic Trainer can help improve your balance and coordination, making you a better skier overall. So whether you're just starting or a seasoned pro, the Nordic Trainer is a great way to prepare for the ski season!
The Nordic Trainer is the perfect way to get in shape for ski season.
The Nordic Trainer is the ideal way to get in shape for ski season! With its adjustable and durable design, the equipment offers a challenging, low-impact workout that works your entire body. It provides an efficient way to build strength and endurance, perfect for carving out your winter base. In a few weeks on the Nordic Trainer, you'll be ready to hit the slopes - in peak physical condition - while reducing the risk of injuries with pre-season training. So, don't wait; get ahead of the game and prepare for a fantastic ski season with a Nordic Trainer!
You can start quickly with the Nordic Strong App.
The Nordic Trainer is easy to get started with, and the Nordic Strong App makes it even easier! The app allows you to track progress, set goals, and filter workouts. To ensure you get ready for the ski season, we have tailored a ski training program to get you in shape for the slopes.
Over three weeks, an instructor will take you through different workouts to help you gain strength, power, and endurance to hit the slopes confidently. You will feel definite progress after just a few weeks.
Technique
Learning the Nordic Trainer technique will be easy. On the Nordic Strong App, we have simple introduction videos that will teach you the most basic technique at home. We also offer virtual training lessons that you access easily from home.
What to expect 
In our 3-week ski training program, you can expect a training program to challenge and improve your cardio and balance and strengthen your leg muscles. The workouts will become longer and harder every week to ensure that you get ready for the ski season! 
The workouts are available on the Nordic Strong App. Three new workouts every week. 
Built for skiers
The Nordic Trainer was initially built for skiers, making it the number one choice to get ready for cross-country skiing or alpine skiing. So, transform your body and ski shape now with the Nordic Trainer.
Ski package

Nordic Trainer
Pro poles
Underlay mat
3-week ski program
Total: 13.925 (save 1000kr)