Nordic Strong Studio
Book your first class!
Welcome to Nordic Strong, your boutique fitness studio dedicated to providing a unique and holistic approach to training inspired by Nordic values. Our studio offers a captivating and invigorating environment that draws inspiration from the mesmerizing beauty of the Northern Lights.

At Nordic Strong, your first class is always free! Sign up via our website or download The Nordic Strong Studio app and sign up as your first-timer. We cannot wait to meet you!
Book Class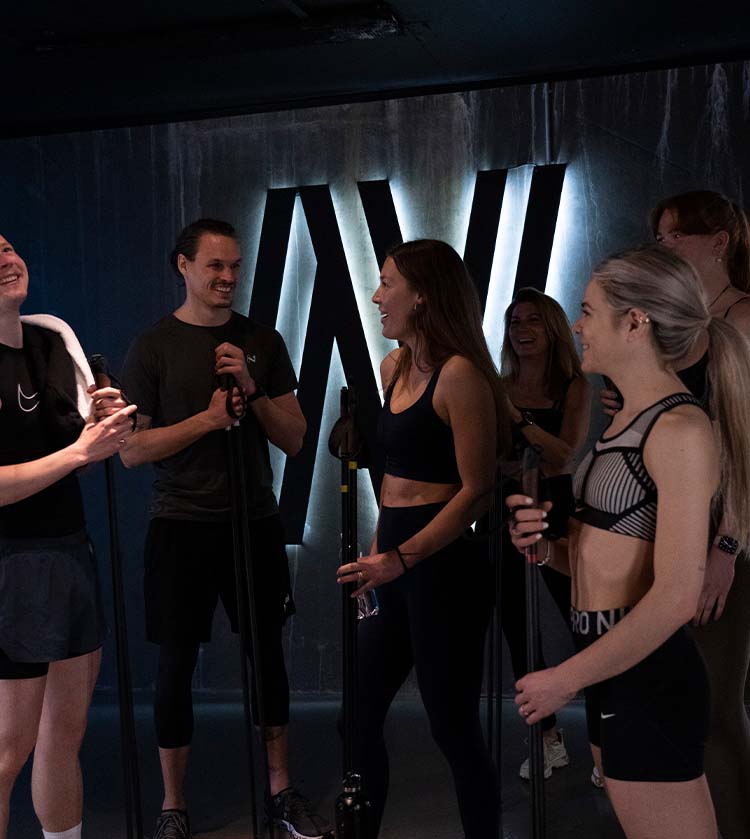 Explore our Studio Offers & Facilities

Offerings

Our offerings at Nordic Strong include the following:

Nordic Trainer-Based Classes: Immerse yourself in our engaging and results-driven Nordic Trainer-based classes. Led by experienced trainers, these classes encompass three distinct types: Nordic Strong, Nordic Cardio, and Nordic Balance. Whether you want to build strength, improve cardiovascular fitness, or find balance and harmony, we have the perfect class to suit your goals and preferences.

Regular Fitness Space: In addition to our specialized classes, we provide a well-equipped fitness space for you to personalize your workouts. Take advantage of our state-of-the-art equipment and create a training routine tailored to your unique needs. Our supportive and knowledgeable staff are always available to assist you and provide guidance as needed.

Two Saunas: Indulge in the ultimate relaxation and rejuvenation experience with our two premium saunas. Step into the comforting warmth and let the heat melt away tension and stress. Sauna therapy offers a range of benefits, including improved circulation, detoxification, and a sense of deep relaxation.

Breathwork Events: Explore the transformative power of conscious breathing in our Breathwork events. These immersive sessions delve into various breathwork techniques aimed at reducing stress, increasing mental clarity, and enhancing physical performance. Our experienced instructors will guide you through practices that cultivate a deeper connection between mind, body, and breath.

Choose a membership that suits you. See our Membership and class pass overview here or on our app

Membership

At Nordic Strong, we understand that each individual has unique fitness goals and preferences. That's why we offer a diverse range of membership options, ensuring that there's something for everyone. Discover the membership best suits your needs and start your transformative journey with us today!

Classes Membership: Gain unlimited access to our dynamic and engaging Nordic Trainer-based classes with our monthly class membership. Experience the full spectrum of Nordic Strong, Nordic Cardio, and Nordic Balance classes led by our experienced trainers. This membership also includes access to our sauna facilities and saunagus, allowing you to relax and rejuvenate after workouts.

Fitness Space Membership: If you prefer to create your own workout routine, our monthly fitness space membership provides you with unlimited access to our well-equipped fitness area. Take advantage of our top-notch equipment and exercise at your own pace. This membership also grants you access to our saunas for the ultimate post-workout relaxation.

The Nordic Warrior: Unleash the full Nordic experience with The Warrior Membership at Nordic Strong. Gain unlimited access to all classes and our fitness space, and indulge in the restorative benefits of our saunas and Saunagus.


Class Passes: For those who prefer flexibility in their fitness routine, we offer class passes. Choose a package that suits your schedule and attend the Nordic Trainer-based classes of your choice. These passes grant you access to our classes without the commitment of a monthly membership.

Saunagus Passes: Elevate your sauna experience with our Saunagus passes. Saunagus is a traditional Nordic sauna ritual that combines heat and essential oils with guided exercises to enhance relaxation and rejuvenation.

Amenities

Our Changing Room Facilities: Pampering and Convenience at Your Fingertips!

Complimentary Towels: Enjoy the convenience of fresh, clean towels provided for your use during your visit to Nordic Strong. We want you to focus on your fitness journey without worrying about bringing your own towel.
Exclusive Product Line: Experience the luxury of our own product line in our changing rooms. From invigorating shampoo and nourishing conditioner to refreshing body wash and indulgent body lotion, we provide high-quality products to enhance your post-workout self-care routine.
Hairdryer: Our well-equipped changing rooms feature hairdryers for your convenience. Easily dry and style your hair after your workout, ensuring that you leave the studio looking and feeling your best.

At Nordic Strong, we believe that your fitness journey should be accompanied by exceptional amenities and a focus on self-care. Our changing room facilities are designed to provide you with a seamless transition from your workout to the rest of your day, offering convenience, comfort, and a touch of luxury. Buy our exclusive products here
First-Timer at Nordic Strong
Choosing the right class
First-timers, we're excited to have you join our fitness community. Before you attend your first class, there are a few important things you should know to make the most of your experience:
Arrive Early: We recommend arriving at least 15 minutes before your scheduled class time. This will give you enough time to check-in, get familiar with the studio, and ensure you have the right equipment for your training.
Studio Introduction: When you arrive, our friendly receptionists will be there to greet you and show you around the studio. They'll make sure you have the appropriate poles and equipment needed for the class. Don't hesitate to ask them any questions you may have.
Class Selection: As a first-timer, choosing the right class is essential to have a positive and enjoyable experience. We offer various classes to cater to different fitness levels and goals:
Beginner Classes: These classes are designed with beginners in mind and place a strong focus on technique. The instructor will guide you through the movements, ensuring you perform them correctly. The resistance can be adjusted throughout the class to suit individual fitness levels.
Nordic Balance: If you prefer a slower pace and want to focus on building balance and strength, Nordic Balance is an excellent choice for beginners. The emphasis is on slow muscle burn and balance exercises, making it accessible to newcomers.
Nordic Strong: Nordic Strong is a high-intensity interval training (HIIT) class that utilizes the Nordic Trainer and heavier dumbbells on the floor. Although first-timers are welcome to join, it's crucial to arrive 15 minutes early for a quick introduction. The class starts promptly, and Nordic Trainer techniques won't be covered during the session. If, by any chance, you are delayed, we'll gladly offer you access to our gym facilities and reschedule your first-timer class.
Nordic Cardio: This class offers the quickest pace and is more suitable for those who have prior experience with Nordic Strong or similar workouts. First-timers must also arrive 15 minutes prior to class, but we generally recommend starting with the other classes before attempting Nordic Cardio.
Book Class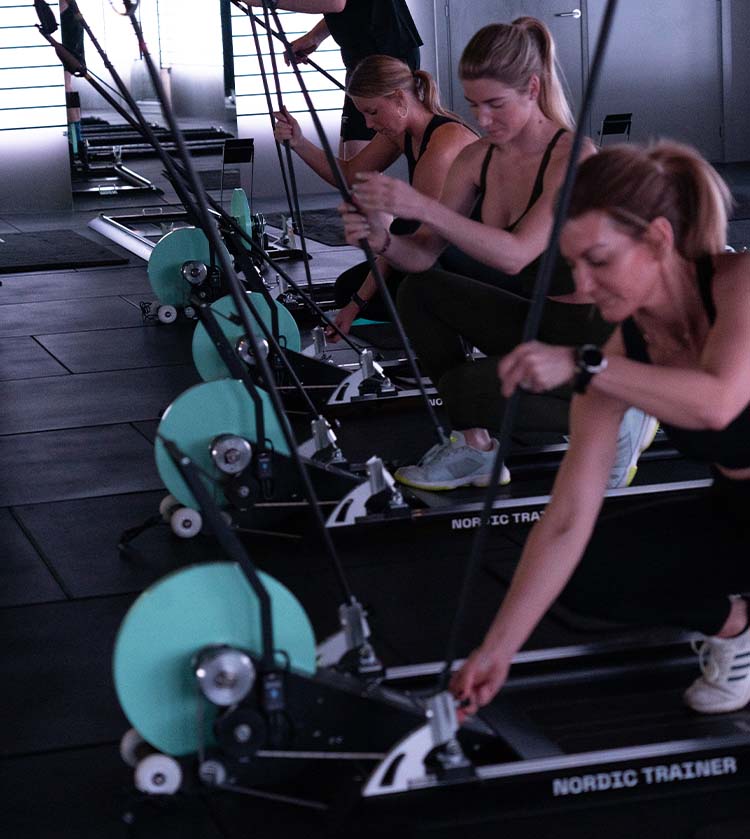 Three Types of Classes

Nordic Strong

Nordic Strong is our signature full-body workout for those who want to push themselves further and get stronger. You'll be put through your paces with intense exercises on the Nordic Trainer and dumbbell and floor exercises to boost your strength.
Focus on the larger muscle groups, such as the glutes, legs, back, chest, arms, and core.

Discover Nordic Strong

Strength Building: Prioritizing muscle development and power.
High Energy: Dynamic sessions designed to keep you invigorated.
Diverse Training: Alternate seamlessly between the Nordic Trainer and floor exercises.
Class Capacity: 36 participants, ensuring a spirited group dynamic.
Intense Resistance: Experience heightened resistance on the Nordic Trainer for a challenging workout.
Varied Focus: Tailored classes concentrating on pull, push, full body, and specialized sessions for abs & ass. See class schedule for specific focus.

Nordic Balance

Our class for improving technique, stability and the fundamentals of the Nordic Strong training mentality. Integrating Pilates-style actions and focusing on the smaller muscle groups, this class will build the burn slowly and de-stress the body and mind throughout.

All balance classes end with a short breathwork session.

Nordic Balance will make your muscles burn but still leaves you calm in your mind and body after class.

Discover Nordic Balance

Pilates Inspired: Incorporating Pilates-based movements for a balanced workout.
Slow Burn: Engage in exercises that gradually intensify, ensuring deep muscle activation.
Exclusive Sessions: Limited to 18 participants, guaranteeing individual access to a Nordic Trainer.
Breathwork Finale: Every Nordic Balance class concludes with a revitalizing breathwork session.
Post-Class Feel: Leave feeling rejuvenated, with a rewarding hint of muscle soreness.

Nordic Cardio

Our highest intensity class. This high-speed, adrenaline-pumping and high calorie-burn workout is the closest you can get to the exhilaration of cross-country skiing. Get ready for heart-pounding challenges, as we often engage in class competitions that test your mettle and drive. Prepare to sweat, push yourself to the limit, and experience the ultimate Nordic Cardio adventure.

Class Level: Medium to hard.

What to expect in a Nordic Cardio class:

Endurance Boost: Classes focused on building stamina and energy.
Nordic Trainer Sessions: Workout includes extended intervals on the Nordic Trainer for an intensified cardio experience.
Exclusive Session: Limited to 18 participants, ensuring individual access to a Nordic Trainer.
Dynamic Pace: Lower resistance, brisk tempo, maximizing calorie burn.
Versatile Workouts: Including floor exercises for a well-rounded cardio experience.

Get our exclusive Nordic Cardio Class Pass for 1050kr, which gives access to 10 Nordic Cardio Classes. Just 105kr per class.
Classes & Fitness Space

Classes

At Nordic Strong, we offer three types of workout classes:

1. Nordic Strong

2. Nordic Balance

3. Nordic Cardio

In all three classes, you alternate between using the Nordic Trainer and doing exercises on the floor.

The classes differ in how the Nordic Trainer is used, the intensity of the class, the music, and what floor equipment is used.

Besides our three core classes, we offer various pop-up classes, such as Nordic Outdoor, which splits time between indoor and outdoor.

All classes are 50 minutes.

Fitness Space

A luxurious and intimate fitness space that inspires and makes you feel at home. The space has a state-of-the-art lighting system, and the surroundings are darker grey, inspired by the Nordics.

In our fitness space, you can train the whole body; we have both free weights, cardio, and strength training machines.

You can also sign up with one of our experienced and energetic personal trainers and get one on one training.

We have cap memberships for the fitness space to maintain an intimate setting.

Class Focus

All Nordic Strong classes include a dedicated focus, referring to the exercises done on the floor. All exercises on the Nordic Trainer are full body.

Full Body:

Refers to engaging all muscle groups in both the upper and lower body.
This comprehensive approach ensures that you receive a balanced workout that targets all major muscle groups.

Abs & Ass:

Focuses on strengthening the abdominal and gluteal muscles.
By incorporating exercises specifically tailored for these areas, we aim to help you achieve a strong core and toned glutes.

Push (Front side)

Targets the muscle groups involved in push movements.
This includes the triceps, pectoral muscles, and abdominal muscles.
By concentrating on these areas, you'll enhance your upper body strength and achieve a well-defined physique.

Pull (Back side)

Concentrates on the muscle groups involved in pull movements.
This includes the biceps, upper, middle, and lower back muscles.
Strengthening these muscles will improve your posture and overall upper body strength.
Our Fitness Space