The Remarkable Transformation of Tulle with Nordic Strong
---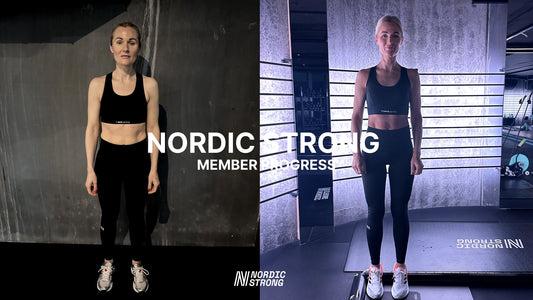 At Nordic Strong, we pride ourselves on being more than just a fitness studio; we're a beacon of inspiration and a community that celebrates every individual's unique journey. Tulle's tale is an emblem of our commitment to facilitating transformations, no matter where one is in their fitness journey.
A Journey of Many Tries
Tulle's fitness odyssey was filled with diverse training methodologies, hours spent in trial and error, and even a tryst with Electrical Muscle Stimulation (EMS). Adding to her challenges were injuries from running, which further limited her options and often resulted in setbacks. Despite her efforts, she didn't see the results she had been hoping for, making the elusive perfect regimen seem even more distant. That is, until Nordic Strong entered the frame.
A New Chapter with Nordic Strong
"Hi, my name is Tulle, and I'm 45 years old," Tulle begins, her voice filled with gratitude. "Since joining Nordic Strong in March 2023, my experience has been nothing short of amazing. Over the years, I've tried various training methods, but few catered to my unique needs and age-specific challenges. With Nordic Strong, everything shifted." The diverse range and effectiveness of our classes resonated deeply with Tulle, leading her to train 5-6 times a week. The cherry on top? She feels more toned than ever before. "Each session leaves me filled with a sense of accomplishment and joy," she shares.
Central to the Nordic Strong method is the Nordic Trainer, an exceptional tool in the modern fitness arena. Designed to be low-impact, it ensures users don't suffer from undue strain on their joints. This equipment meticulously targets muscles, starting with the core, then refining the arms, shoulders, and back.
Its adaptability is its crowning glory. The Nordic Trainer welcomes everyone, regardless of age or prior fitness exposure. It promises a workout that's gentle yet results-driven.
In Conclusion
Tulle's engagement with Nordic Strong is more than just a story; it's an inspiration. Redefining her fitness path at 45, she found a stronger, toner version of herself. Her transformation is a testament to the idea that with the right environment and tools, personal fitness goals are not only achievable but can be exceeded. At Nordic Strong, we're honored to play a part in these transformative journeys.