Getting started with the Nordic Trainer - A beginner's guide
---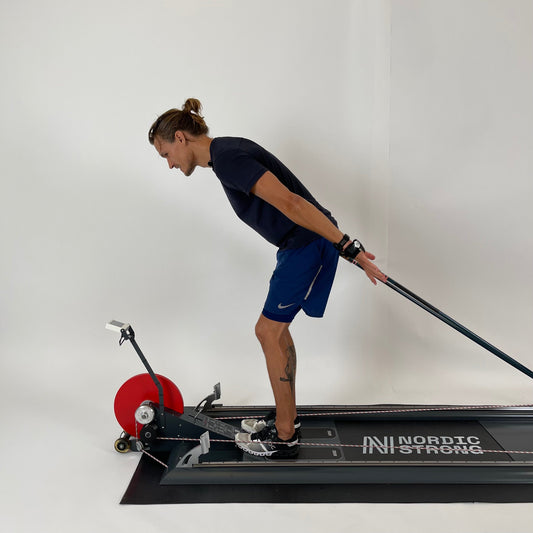 Getting started with a new workout routine or equipment can seem unmanageable. Maintaining a new routine can be even harder. Most people have probably tried to start a new routine or habit and thought it would become life-changing, only to quit after a few weeks. That's why we have put together a beginner's guide that will help you get started with the Nordic Trainer, teach you basic technique and contain all relevant links to our beginner programs. If you follow our guide and set small goals for yourself and the Nordic Trainer, you will quickly notice a difference in your body's muscle mass and you will see how easy and fun the trainer is. So read on and then get ready to get started with your Nordic Trainer.
Basic Technique
The very first thing you need to do is to learn the basic double poling technique. Double poling is one of the core full body exercises you can do on the Nordic Trainer. With every stroke, you activate 96% of the body's total muscle mass, making it a great exercise to activate the entire body. It is also the exercise that imitates cross-country skiing. You can perform double poling at the front and back of the Nordic Trainer, ensuring that you build equal agonistic-antagonistic strength around all your body joints.
There are three things you need to keep in mind when doing double poling.
Keep you core tightened!
 All exercises in the Nordic Trainer will activate your core muscles, so it's the most important thing to keep in mind.
Keep a straight posture.
Have slightly bent elbows
 Let's walk through the different steps of double poling:
Start position: Stand with feet shoulders width apart, a slight bend in your knees and hands are holding the poles in front of you.
Tighten up your abdominal muscles as you lower yourself into a squat and pull your arms down beside your body. It is important that you pull your arms down at the same time as you make your squat.
Stand upright again, by bringing your arms forward and making your body long and tall.
Repeat the exercise
Video: How to master the Nordic Trainer technique
Getting started
Once you master the basic technique, it is time to get started with your training. With the Nordic Trainer, only 3 x 15 minutes training per week is enough to see results. To ensure you stay on track, keep a monthly calendar with your goals. An example is shown below:
| | | | | | | |
| --- | --- | --- | --- | --- | --- | --- |
| Mon | Tue | Wed | Thurs | Fri | Sat | Sun |
| 12min |   | 12 min |   | 15 min |   |   |
|   | 12 min |   | 25 min |   | 12 min |   |
| 20 min |   | 15 min |   | 20 min |   |   |
| 25 min |   | 15 min |   | 25 min |   |   |
Begin with just 10 minutes training and as your technique becomes better, add a bit of time. Keep in mind that 15 minutes HIIT is enough. However, the longer workouts are great as endurance workouts.
Program 1, 12 min:
4 min Double Poling
2 min Lunges
2 min double poling
Program 2, 15 min:
2 min Double Poling
2 min Lunges
2 min squat pulls
3 min Double Poling
2 min Lunges
2 min squat pulls
Program 3, 20 min
4 min Double Poling
2 min Lunges
2 min squat pulls
1 min Tricep pulls
3 min Double Poling
2 min Lunges
2 min squat pulls
4 min double poling
Program 4, 25 min
Endurance workout
5 min double poling
30 sec break
5 min double poling
30 sec break
5 min double poling
30 sec break
10 min double poling